Two traffic crashes 15 minutes and five miles apart on Monday morning left one driver injured and three trucks heavily damaged, the most serious of them a fire engine and rescue truck from the Cherryhill Township Volunteer Fire Company.
The firetruck went out of control heading east on Route 422 near the entrance to Yellow Creek State Park as volunteers answered an emergency call to help in Strongstown at the intersection of Routes 422 and 403, where a coal truck and a box truck had collided.
Three firefighters on Engine 242 — driver Dennis Walk, 33, of Clymer, and passengers Bryan Mason, 22, and Brian Keith, 35, both of Penn Run — had been strapped into their seats and freed themselves from the battered truck after it crashed through the guardrail and went over an embankment, according to reports.
Cherryhill Township Fire Chief Jody Rainey said the firefighters were sent to Indiana Regional Medical Center for checkups as a precaution. The driver was given a mandated alcohol and drug screening, he said.
State police said Richard Park, 52, of Home, the driver of an International Harvester Utility truck, was treated by Citizens' Ambulance Service paramedics for a suspected minor injury at the scene of the earlier crash. Troopers from Indiana reported Anthony Laughard, 37, of Armagh, the driver of a Peterbilt Glider truck, was unhurt.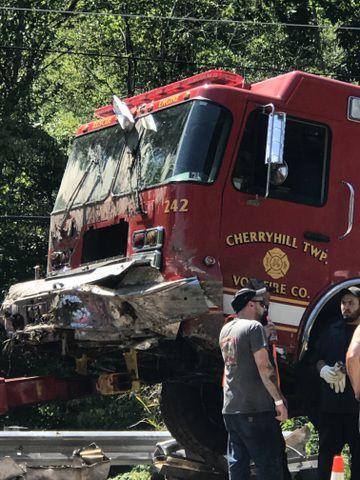 The combination of the accidents, reported at 10:29 and 10:43 a.m., slowed traffic on the highway, the main route between Indiana and Ebensburg, for hours.
Heavy-duty wreckers cleared wreckage from both scenes. The firetruck, the last of the vehicles removed, was towed away at 3:20 p.m. by a truck from Mike's Auto & Towing, of Clymer, and deposited at the Cherryhill Township fire station in Penn Run.
Rainey said the truck, which served as the No. 1 unit for rescue missions, was heavily damaged. An insurance inspection was expected today.
"We will have a conversation with the insurance adjuster and my suspicion is that it is totaled, but I'll let the insurance adjuster make determination," Rainey said this morning.
The inspection, he said, would include evaluating the tools and accessories on the truck that can be salvaged for continued use. Most, he expected, would be OK.
Rainey said the department's fleet of trucks, all built and equipped as hybrids for purpose, are suited to respond to all emergency calls despite the loss of Engine 242.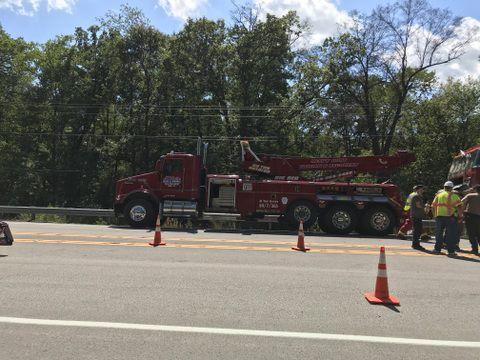 "We are fully equipped and our state of readiness really hasn't changed," Rainey said. "We're able to handle our alarms. But as a precaution, we have put in a temporary order at dispatch center to have next due mutual aid company dispatched for any rescue or suppression call we may have, for the short term, until we can assess our truck and portable equipment."
He said the fire department carries replacement value insurance coverage on its trucks.
Other fire departments in the region had offered their resources to back up the Cherryhill Township fire crew, and Rainey said the department appreciated the response.
"Vehicles are built every day, and we can replace a vehicle. But we can't replace people. We're thankful and grateful that no one was injured," Rainey said. "We appreciate the support we've gotten from agencies and community."
Pine Township, Indiana and Brush Valley fire departments and Pennsylvania Department of Transportation assisted at the crash scenes.